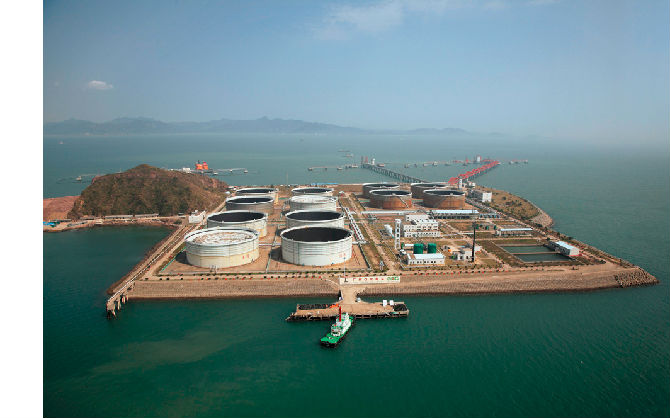 Sinopec Kantons Holdings Limited ("Kantons Holdings") was established in Bermuda in March 1998 and was listed on the Hong Kong Stock Exchange on 25 June,1999 (Stock Code: 00934). Currently, the total issued share capital of Kantons Holdings is 2,486.16 million shares of which 1,500 million shares are held by Sinopec Kantons International Limited, representing 60.33% and 986.16 million shares are public float, representing 39.67%. The entire share capital of Sinopec Kantons International Limited is held by China International United Petroleum & Chemical Co.Ltd.(Unipec), a wholly owned subsidiary of China Petroleum & Chemical Corporation ("Sinopec").
Sinopec Kantons Holdings Limited is a storage and logistics company with two wholly-owned subsidiaries: Sinomart KTS Development Limited and Kantons International Investment Limited. The company's principal activities are: operation of crude oil loading and unloading, storage and transportation facilities and LNG shipping.
As Sinopec's sole red-chip subsidiary listed in Hong Kong by far, Kantons Holdings represents Sinopec's diversified capital in a significant way. In 2010, the company's board of directors decided the new development orientation of Kantons Holdings - to build the company into a "world-class petrochemical storage and logistics company". Thanks to the great support of Sinopec Group and our unremitting effort, by far we hold seven wholly or jointly owned domestic terminal companies, including one wholly-owned company-Huizhou Huade Petrochemical Co., Ltd., one 90%-owned company -Tangshan Caofeidian Shihua, and five 50%-owned companies – Zhanjiang Port Petrochemical, Ningbo Shihua, Qingdao Shihua, Rizhao Shihua and Tianjin Port Shihua. We also have developed three overseas storage projects,of which Vesta and FOT has been under operation, while the PT.West Point Terminal Project has been ceased to proceed. The company also engages in the LNG shipping business. Through two LNG shipping joint ventures it owns, Kantons Holdings operates 8 LNG vessels.
Looking into the future, Kantons Holdings will continue with the business philosophy of competition and openness and the management tenet of maximizing profits and shareholders' return, in an effort to build Kantons Holdings into an international logistics company with quality assets, scientific management, financial soundness and sharp competitive edge.
To ensure the transparency of operation and lower the risks of bribery and compliance, Sinopec Kantons Holdings Limited and subsidiaries encourage employees and relevant third parties (such as customers, suppliers, business partners and those have business transactions with the Companies), express concerns over any indecent behavior, bribery and non-compliance activities. The Companies will handle any reported cases with due care, in fair and appropriate manner, and high confidentiality. Whistle blower may report to Risk Control Department by written form, either by letter or email. The General Manager of Risk Control Department should be addressed at 34/F, CitiCorp Centre, 18 Whitfield Rd., Causeway Bay, HK. Email address is compliance.skts@sinopec.com
New Bye-Laws (with effective from 15 December 2022)